RJM International has been awarded The Queen's Award for Enterprise: Innovation 2017 for its unique Ultra-Low NOx Burner technology that is enabling operators of power stations, industrial boilers and other large combustion plant to meet the latest international emissions regulations in a highly cost-effective manner.
RJM International, the Winchester–based provider of emissions reduction solutions and equipment to the power generation and large combustion plant sectors, announces today that Her Majesty The Queen has approved the Prime Minister's recommendation that it should receive a Queen's Award for Enterprise in the Innovation category this year. The Award is being conferred today, Friday 21st April 2017, Her Majesty's birthday.
The company has been awarded the Queen's Award for Enterprise: Innovation 2017 because it has  developed and is now successfully marketing worldwide, a unique, hi-tech, engineering-based technology that enables operators and owners of power stations, industrial boilers and other large combustion plant to meet the latest international emissions regulations in a highly cost-effective manner.

Sopisticated CFD is just one of the tools used by RJM to determine actual flame performance (full caption below)
The reduction in levels of nitrogen oxides (NOx) within thermal-fired units is particularly difficult to achieve on existing plants if operational flexibility and other key parameters are not to be compromised as a result. Two options were previously available to operators; reconfigure the plant to enable a post-combustion, flue gas treatment facility to be installed – a very expensive, £ multi-million option – or close the plant.
RJM International has developed a unique and cost-effective range of Ultra-Low NOx replacement burners that, when combined with RJM's complete firing solution, manage the combustion of fuel in a highly efficient manner, reducing the levels of NOx emissions to very low levels during combustion and yet still maintaining operational efficiencies.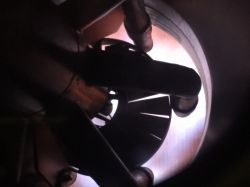 One of RJM's new generation of CleanAir Burners™  fitted to a district heating scheme in Beijing (full caption below)
The development has opened up new business for RJM International and over the five year period commencing 2012, turnover has increased by an average of 84% per annum.
Today RJM is exploiting its innovation to target new business opportunities in Europe, North America, India and the Far East. Major projects using this Ultra-Low NOx technology have recently been completed in the UK, Europe and most recently at a major utility provider in Beijing, enabling that plant to meet China's new clean air emissions regulations as determined by the China Clean Air Act.
This ground-breaking reference, along with others in the UK and Europe are now providing RJM International with a firm platform of proven performance data that is already delivering further successes within current and new markets.
Commenting on the Award, John Goldring, Managing Director of RJM International, said, "We have been refining our Ultra-Low NOx burners, together with our range of end-to-end combustion efficiency solutions for over ten years now, so we are absolutely delighted to have our achievements recognised through this most prestigious of awards.
"Our team of people here is highly skilled and each one of them has played an important part in developing the innovations that have delivered our commercial success. I'd like to take this opportunity to thank them for their skill, enthusiasm and dedication to building RJM International into the world-class business that it is today," he added.
-ENDS-
1st image: CFD graphic
RJM uses a number of hi-tech processes that enable it to achieve ground-breaking performance. For example, CFD analysis is used to determine actual flame behaviour within the furnace in real time. Concentrations of NOx, CO and unburnt particles as well as temperature can all be observed and recorded at millions of data points.
2nd image: Beijing burner
One of RJM's latest ultra-low NOx gas-fired fired CleanAir Burners™ in position in a district heating plant in Beijing. The retro-fitting of nine of these units on three separate boilers at this plant has enabled it to meet the stringent NOx emissions limit of 30mg/Nm³, as legislated by China's new Clean Air Act. With NOx emissions originally at 140mg/Nm³, this represents a substantial reduction of over 75%.