A typical RJM solution is a combined 'product and service' offer, custom-designed to suit the precise requirements of the customer and the plant.
RJM offers a wide range of products to suit applications across all types of thermal plant, from ultra-low NOx burners for coal-fired utility boilers to new fuel trains for biomass and EfW plants.
Ultra-low NOx Coal Burners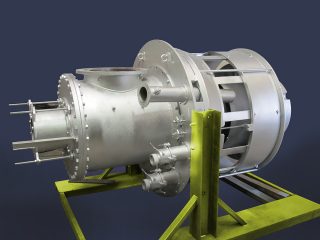 Outstanding performance
RJM has been developing its own ultra-low NOx burner technology since the company was founded in 1977. With applications to suit every firing configuration and all coal types, including lignite and high moisture coals, RJM has a proven burner solution that can minimise or obviate the need for secondary NOx reduction measures.
Key features
Award-winning technology
New or retrofit to any OEM burner
Multi-fuel /co-firing capability
Custom-engineered for a wide range of coal types
High performance – 200 – 250 mg/Nm3 (100-125 ppm) NOx on 500MWe boiler
Reduces/eliminates the need for SCR or SNCR, reduces reagent consumption
Highly stable flame with excellent Internal Recirculation Zone (IRZ), short flame lengths reducing rear wall impingement
Long design life and low maintenance
Plant applications
NOx reduced from 500mg/Nm3 to 250mg/Nm3 firing bituminous coal at SSE Ferrybridge, a front wall-fired unit.
NOx reduced from 500mg/Nm3 to <190mg/Nm3 firing international coal diet at Engie Rugeley, a front wall-fired unit.
Close X
Ultra-low NOx Industrial Gas Burners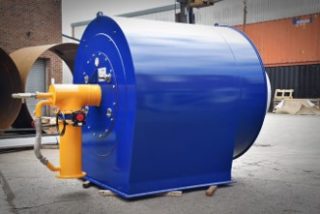 Outstanding performance
RJM has responded to growing demand for ultra-low emission burners by developing a new type of gas burner that can be sized to suit many different  industrial applications, from factories with an on-site demand for heat and power, to district heating plants producing hot water.
Key features
Innovative technology
20 – 100MWth
High quality manufacture
Robust and durable design
No refractory or tile
Maintenance free design
NOx emissions <15ppm at 3% O₂
CO emissions <30ppm at 3% O₂
Low excess air, high efficiency
15 – 25% FGR required
Short compact stable flame
Independent pilot flame monitoring
Retrofit or new boilers
Design flexibility to suit all boilers
Simple, modular design
Plant applications
Numerous installations in Europe, North America and China
Close X
Biomass & Energy from Waste Firing Systems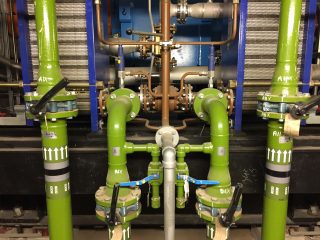 Key features
RJM's capabilities across biomass and WtE firing systems are delivering significant improvements to availability, efficiency and reliability for its customers, thereby increasing green MW output to the grid and improving profitability. As operators increasingly seek to widen the range of fuels they can fire, RJM is playing a key role in determining how these new fuels will impact on material handling, combustion and emissions.
Outstanding performance
Extensive use of CFD modelling and DEM modelling to better understand combustion and fuel flow characteristics
Engineering solutions and products designed and manufactured to suit each specific plant
Plant applications
RJM is working with biomass and W2E customers in Europe, the UK and the USA, helping them to optimise all aspects of their plant, including their firing systems.
Close X
Burner Management & Combustion Control Systems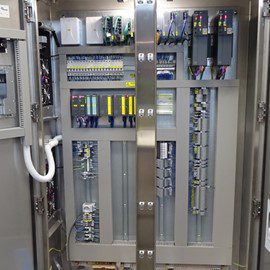 Key features
The more data that one can capture from critical parts of the plant, the more opportunities one has for making adjustments to improve operational performance. Data is analysed to enable the unit to run at optimal efficiency, minimise damage to equipment and reduce the likelihood of unforeseen outages. RJM works with its customers to ensure burner management and combustion control systems are fully optimised and conducts remote monitoring through the DCS to deliver incremental improvements without the need for outages.
Outstanding performance
Load control
Air / fuel ratio control
Sequence control
Safety interlocks management
Remote monitoring and operation
Communication protocols
Control philosophy generation and assessment
Functional design studies
Plant applications
AES-VCM Mong Duong II, Vietnam. 1,240MW coal-fired plant. Remote monitoring by RJM
Various biomass plants in the UK. Remote monitoring by RJM
Typical Burner Management System installation (Image: Icorsa)
Close X
SNCR Systems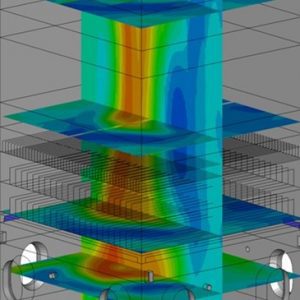 Key features
Combined with RJM's primary NOx reduction systems, IED compliance is now achievable with SNCR, offering significant savings over conventional SCR systems. By ensuring that primary and secondary systems are considered in a holistic approach, RJM can provide confidence that Emission Limit Values (ELVs) will be met.
Outstanding performance
Post-combustion emissions control technologies
Delivers additional NOx reductions using ammonia type reagents
Compatible with RJM primary measures technologies
RJM expertise on primary measures reduces need for SNCR
Less reagent and smaller SNCR plant deliver cost savings
Supplied as part of an overall firing system upgrade for the most cost-effective emissions reduction solution
Plant applications
RJM has modelled and designed a new SNCR system as part of the overall NOx reduction projectat 680MWe lignite-fired power plant, Kosovo B
Close X
IMPULSE® Cleaning System
Key features
The IMPULSE boiler cleaning system is a development of the pulse detonation propulsion technology pioneered by GE and uses a supersonic shock wave to dislodge material that has built up on surfaces within the boiler. The shock wave is created by the detonation of a mixture of fuel and air. The IMPULSE Cleaning technology delivers dramatic improvements in the online cleaning of fouled surfaces, when compared to conventional cleaning systems. The pulse waves work effectively as a non line-of-site cleaning system, removing deposits without erosive damage to heat transfer surfaces – unlike conventional cleaning methods. The IMPULSE system is also self-contained and has no need to tap into expensive plant steam.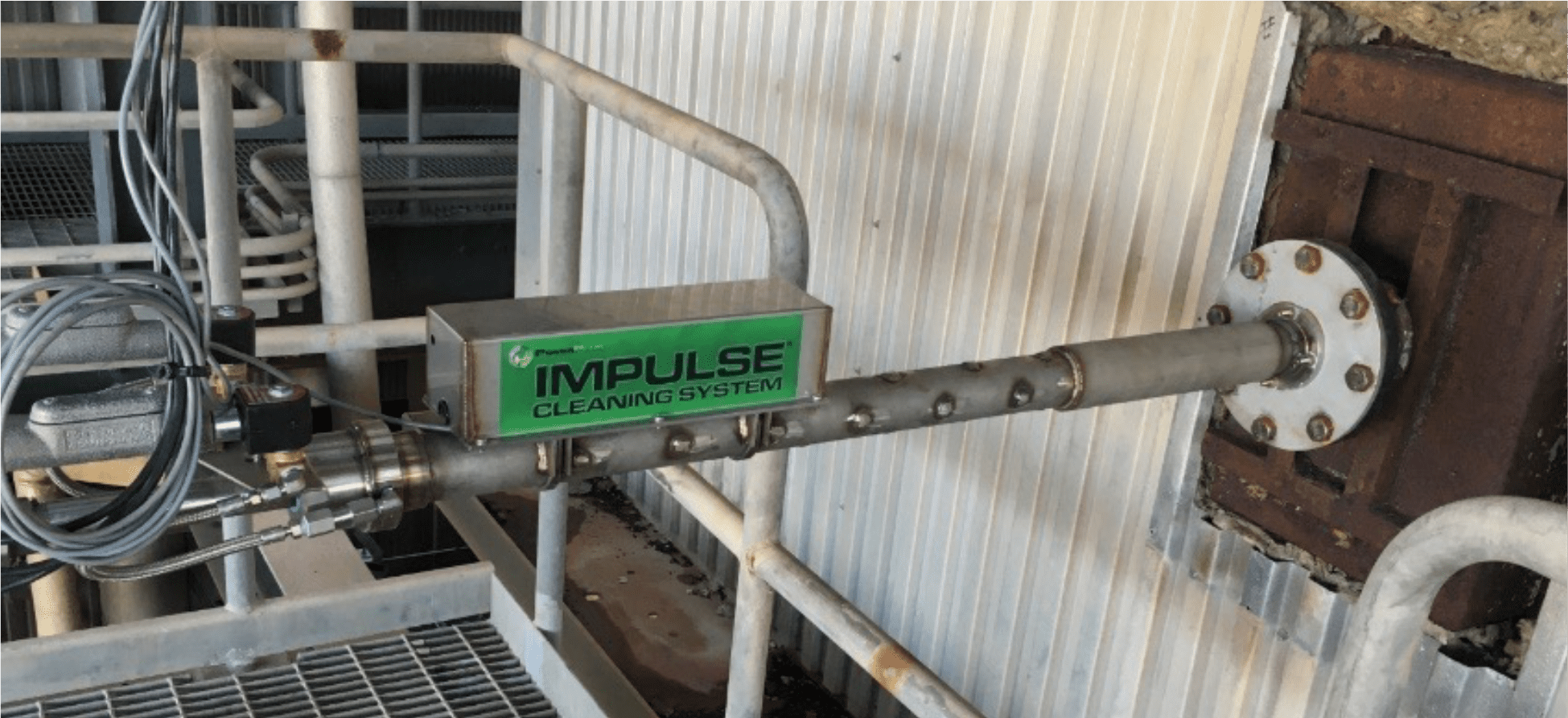 Outstanding performance
Effective and efficient on-line cleaning system
No erosion or damage to heat transfer surfaces
Low Opex and maintenance; innovative design avoids moving parts
Minimal intrusion into boiler means small installation footprint and low installation cost
Does not scavenge plant steam, therefore no reduction in exported power
Negligible recoil from proprietary detonation technology
Non line-of-site cleaning; better coverage than sootblowers
Significantly less expensive capital cost and lower operational costs than its competitors
Suitable for all boilers, all sizes, all combustion technologies and all fuels
Proven technology with over 300 installations in the USA
Plant applications
Suitable for all fuels and all types of combustion plant, including coal-fired utility generators, biomass and Energy from Waste units and industrial process plants generating their own heat and power on-site.
Click here for more information
Click here for link to brochure
Press Release
Close X
Ultra-low NOx Gas Burners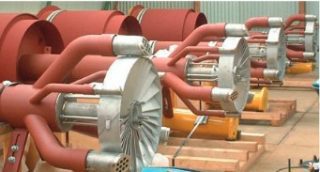 Outstanding performance
RJM has been developing its own ultra-low NOx gas burner technology since the company was founded in 1977. With applications to suit a range of different outputs and every firing configuration, RJM has a proven burner solution that can minimise or obviate the needs for secondary NOx reduction measures.
Key features
Designed for small to large-scale utility boilers
Ease of installation due to designed match with existing interfaces
Installed throughout the USA and the EU
Sub-100mg/Nm3 NOx capability with FGR
Stable flame across turndown
Operation at <1% excess O2
Greater flexibility
Improved operability
Common windbox with air sleeve or individual windboxes
Plant applications
EU power station. Front wall fired. NOx reduced from 216mg/Nm3 to <100mg/Nm3
Clauscentrale, Netherlands. Opposed fired, Benson type burners. NOx reduced from 400mg/Nm3 to 200mg/Nm3
Click here for article in Modern Power Systems on RJM's project at Essent Energie's Clauscentrale plant
Close X
Multi-Fuel Burners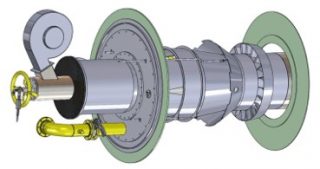 Key features
To control fuel costs and to provide a layer of protection from security of supply issues, many power plants are seeking to have the capability to fire a wider range of fuels, beyond original equipment design. To support the objectives of these plants, RJM has developed a multi-fuel burner that can fire coal, gas or oil.
Outstanding performance
Ultra-Low NOx capability
Multi-fuel nozzles
Full load operation on coal, oil or gas
Designed for retrofit
Customised to suit existing plant
Close X
RDF and SRF Conversions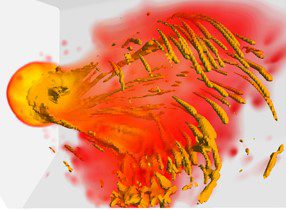 Key features
Faced with changing green subsidies, carbon taxes and security of supply issues, plant operators are increasingly widening their fuel diets to maintain profitable generation. RJM is at the forefront of the move to fuel diversification and its skills in fuel engineering and understanding fuel properties in relation to combustion, emissions and overall operational performance are second to none.
Outstanding performance
Pioneering innovation supported by university R&D
Full CFD modelling capability of diverse waste fuels
Optimised material handling for all fuel types
Fuel transfer and storage modifications
Mill upgrades to suit new fuels
Versatile offer including burner modifications
Replacement of entire firing system and burners
Viable transition to lower carbon generation
Full support service
Plant applications
FEED Study for Simec Atlantis Energy, Uskmouth. Front-wall fired. World's first project to convert a PF coal plant to fire a waste-derived energy pellet.
Close X
Over Fire Air Systems and Curtain Air Systems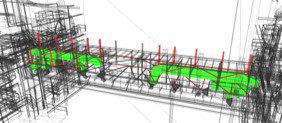 Key features
Over Fire Air Systems create combustion staging in the furnace which facilitates low NOx performance. The location of the OFA ports, the volumes, velocity, direction and temperature of the over fire air all have an impact on performance. RJM uses CFD modelling and physical modelling to calculate optimal OFA settings.
Outstanding performance
Ultra-low NOx emissions firing requires combustion staging
Incudes Overfire Air (OFA), Boosted Overfire Air (BOFA) and Curtain Air
RJM's own design for staged air nozzles
New RJM ductwork using laser surveys to avoid clashes
Extensive portfolio of successful installations
Accurate CFD modelling to ensure optimal performance
Delivers a low NOx solution that cannot be achieved by burners alone
Reduces the need for costly post-combustion SCR or SNCR systems
Designed to work in harmony with firing system
With BOFA (Boosted Overfire Air) can reduce NOx by up to 40%
Plant applications
AES Kilroot. As  part of the overall NOx reduction project, the OFA ports were replaced to enable higher velocity of injection and multiple angles of injection to control burnout
Rugeley Power Station. OFA modifications and a new curtain air system were installed as part of the overall deNOx project
Close X
Flue Gas Recirculation Systems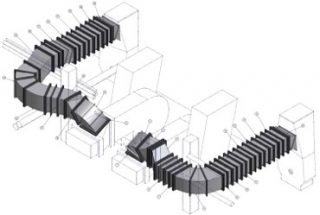 Key features
RJM uses FGR or induced FGR (iFGR) systems to take hot flue gases from the existing GR fan outlet and introduce them into the existing FD fan inlet. When combined with new ultra-low NOx burners and other modifications, an FGR system can help deliver a reduction in NOx levels to below 100mg/Nm3 at 3% O2 dry.
Outstanding performance
Powerful NOx reduction technology for gas fired systems – >70% NOx reduction if combined with RJM ultra-low NOx burners
Deployed to lower flame temperatures and reduce creation of thermal NOx
Typically combined with other NOx reduction measures
Proven track record with FGR across all boiler configurations
Cost-effective NOx reduction technology
Induced FGR or Forced FGR depending on the draught plant design
Plant applications
AES Ballylumford. iFGR system installed with new RJM ultra-low NOx gas burners, delivering NOx levels to below 100mg/Nm3
Numerous district heating plants in Beijing. NOx reduced to <15ppm consistently across the heat output range with FGR systems designed by RJM
Close X
FlameSight™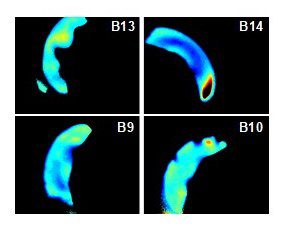 Key features
RJM's FlameSight™ is the latest innovation in real-time flame performance monitoring. It is available either as a portable system that can be inserted into any furnace viewing port or as a permanent fitment, hard-wired into the plant's Distributed Control System (DCS).
FlameSight™ has been designed to work reliably in the most hostile operating environments. It consists of an air-cooled borescope with a lens at the furnace end for in-line monitoring, or lens plus prism to observe flame behaviour vertically above, below or at a desired angle to the unit. A digital video camera records the images captured by the lens in the furnace. Standard plant supply compressed air at 2 bar cools the unit and keeps both sides of the lens clear from dust build-up. For extremely high temperature environments, RJM's FlameSight™ can be supplied with an additional water-cooled jacket.
Key benefits
Non-intrusive, real-time detection of changes in fuel quality, including calorific value, grind quality and moisture content
Automatic, on-line adjustment of burner geometry in response to changes in fuel quality (no need for costly outage)
On-line detection of varying fuel diet (different coals, biomass fuels and blends) with automatic adjustment of mill load line
Detection of burner damage without need for physical inspection or outage
Reduced slagging and fouling with self-correction of poor flame geometry
Increased furnace reliability
Flame Stability Index enables like-for-like comparisons and benchmarking
Close X
Ultra-low NOx Oil Burners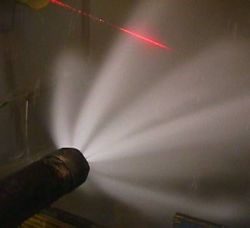 Outstanding performance
RJM has been developing its own ultra-low NOx oil burner technology for over 30 years and more recently has worked with the International Flame Research Foundation to optimise the performance of its oil burners and oil light up equipment. With applications to suit every firing configuration, and various multi-fuel combinations, RJM has a proven oil burner solution that can minimise or obviate the needs for secondary NOx reduction measures.
Key features
Designed for individual plants needs
Laser doppler and spray tested to confirm performance
Steam, air and pressure atomisation tips
Advanced tips to fit to existing equipment
Plant applications
AES Kilroot, Northern Ireland. Tangential, four corner firing. NOx reduced from 500mg/Nm3 to 380mg/Nm3 firing oil
Light up burners provided for EDF Cottam, SSE Ferrybridge, Eggborough and Rugeley power stations
Close X
Coal-to-Biomass Conversions
Outstanding performance
To support plants that are considering how best to decarbonise as quickly and cost-effectively as possible by introducing co-firing with biomass or a full conversion, RJM has developed an end-to-end offer that considers every aspects of a plant's operations.
Key features
End-to-end RJM offer from fuel-in to stack, including:
New material handling systems
New fuel storage systems and silos
Fuel engineering
Mill modifications
Firing system upgrades
Safety assessments
Revisions to emission control systems
Delivers cost-effective plant life extension
Viable route to low carbon transition
Custom-designed to suit each application
>12,650MW of feasibility study references
>3,000MW of biomass co-firing and conversions developed by RJM engineers
FEED study completed for "world first" PF-to-SRF pellet conversion
Leading fuel engineering capability for new, lower carbon fuels
Plant applications
RJM's fuel experts and combustion engineers have been involved in some of the first ever coal-to-biomass conversions, such as the 750MW Tilbury power station fired by sustainably sourced renewable wood pellets and the FEED study for Simec's Uskmouth power plant where they plan to convert from coal to SRF. RJM has also carried out over 12,650MW of coal-to-biomass feasibility studies for plant operators in the UK and Europe.
Close X
Fuel Delivery Systems & Modifications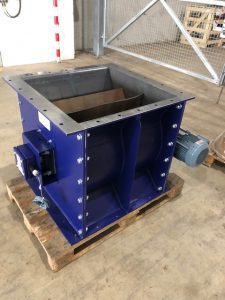 Key features
As each fuel type has its own, distinct set of dynamic and kinetic properties, plants need to be configured so that fuel can be handled and stored safely. It also means fuel-to-furnace delivery systems need to deliver a reliable flow, at every boiler output. RJM is currently working with a number of biomass and W2E sites in the UK, enabling them to optimise all aspects of their fuel delivery systems. In addition, RJM has been optimising the fuel delivery system at a coal-fired plant in Asia. In all these scenarios, RJM has used Discrete Element Method (DEM) modelling to help determine what engineering modifications or new hardware is needed to deliver the required performance improvements.
Outstanding performance
Multi-fuel capability across coal, lignite, biomass and all EfW fuel streams
Expertise across fuel unloading, transfer, storage preparation and delivery
CFD modelling and physical modelling used to understand fuel flow criteria
Design and fabrication capability to re-engineer fuel feed systems
Fuel engineering expertise
Trouble-shooting across all fuel delivery systems
Fly ash and bottom ash handling solutions
Plant applications
Energy Works Hull (biomass) and Castle Peak (coal) in Hong Kong
Close X
Separated Under Fire Air Systems
Key features
RJM has developed its own, patented solution to deliver additional air into the centre of the fireball from below. It is a relatively low-cost solution and delivers further NOx reductions without the need for additional levels of secondary measures such as SCR or SNCR.
Outstanding performance
RJM's patented Separated Under Fire Air (SUFA) system
Injects secondary air from the bottom of the furnace into the centre of the rotating fireball
Captures carbon in the centre of the fireball that would otherwise be left unburnt
Delivers lowest possible NOx on a T-fired unit
Enables firing to operate at low stoichiometry
High efficiency
Plant applications
EPK Kilroot. Part of additional work to bring NOx down from 300mg/Nm3 to <200mg/Nm3
Close X
RJM Spares & 24/7 Product Support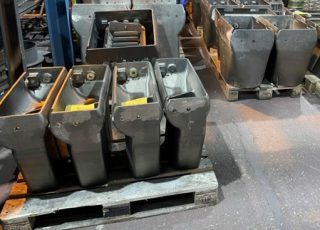 Key features
RJM designs, specifies and oversees the production of a wide range of sophisticated components which are installed at customer sites to deliver specific performance improvements across materials handling, combustion and emissions. Manufactured to the highest tolerances, these parts often provide better than OEM performance and range from single light up components to full burner replacements for an entire station.
Outstanding performance
Full range of RJM-designed and manufactured components
From single nozzles to full firing systems
Custom-designed to suit each specific application
Global QA-approved supply chain
ISO 9001 and 14001 certifications
Wide range of reference plant
Full implementation and optimisation service
Real-time remote plant monitoring
Technical Services Agreements
24/7 call-out capability, worldwide
Close X
RJM offers a full range of services that complements its product portfolio.
Typically an RJM project will consist of a tailor-made combination of products and services, brought together to meet the precise needs of each customer.
Site Survey (Plant Audit)
This is the initial engineering stage for RJM, used to understand the current status of the plant. Key elements of the site survey include evaluating equipment condition, understanding how the plant is set up, its current operations and performance, and what physical limitations there may be for changing plant equipment.
Close X
Baseline Testing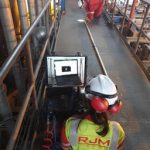 Using calibrated measuring equipment gives RJM an accurate set of data points that cover off all aspects of combustion performance. After RJM has completed due diligence to assess this data, it forms the foundation for all the engineering and modelling stages that follow.
Close X
Combustion Audit
This stage benchmarks combustion and measures current performance against unit design and highlights areas for improvement.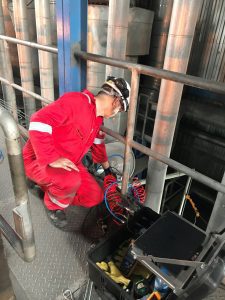 It identifies what combustion and emissions problems are being encountered and reviews the effectiveness of any previous corrective measures.
The audit also provides options for how best to achieve desired improvements to boiler performance and emissions reductions, enabling RJM to set-out a project roadmap to meet the customer's objectives.
Close X
CFD Modelling
CFD modelling performed by RJM is designed to deliver accurate, robust and practical solutions that enable power plants to improve a wide range of combustion, emissions and other operational issues.
As a pioneer in the development of CFD-driven solutions, RJM is able to provide the most effective and practical plant upgrades at least cost.
CFD modelling
CFD modelling is typically used in conjunction with a physical site survey to provide actual plant performance, so that a baseline CFD model can be established that replicates existing unit performance as its starting point.
The site survey also serves to verify baseline process data, including NOx, CO, excess oxygen conditions as well as flame position, slagging areas, furnace exit gas temperatures and other key parameters.
Once the baseline conditions have been established and confirmed as representative of the field data (known as Model Validation), RJM will run the CFD model to analyse every aspect of the combustion process and to identify what combination of changes, modifications or upgrades might be applicable to deliver the emissions reductions, combustion optimisation or efficiency improvements required by the plant operators.
This is complex and detailed work and RJM continues to invest heavily in refining and developing its own CFD modelling software and systems to ensure greater accuracy. This in turn enables it to offer its customers a more detailed analysis of the combustion challenges and a more rigorous set of solutions to address them.
Typically, the difference between the baseline emissions and performance, compared to the proposed modifications to operating procedures and plant upgrades proposed by RJM, determines the performance improvements and emissions reductions that can be achieved.
RJM follows a strict and logical iterative procedure until the upgrade performance aligns with the project objectives. Once this is achieved, RJM will design, manufacture and install any new components that are required, as well as make modifications to existing equipment and work with the plant operators to ensure that the new operating procedures deliver the desired results.
As RJM's CFD modelling is so sophisticated, it enables all modifications to the combustion process to be tested for effectiveness off-line, before any physical hardware is modified or fabricated. In this way, CFD modelling accelerates the design process as it provides fast and reliable results. It is also used as a tool to shorten downtime, as settings for commissioning can be accurately estimated before the equipment is installed. This often results in additional major cost savings for RJM's customers.
Close X
Physical Modelling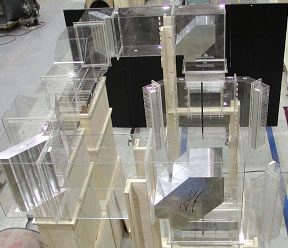 RJM uses physical modelling (often in conjunction with CFD modelling) to help identify fuel / air flow issues such as uneven distribution through the air ductwork or fuel pipes, which can result in sub-optimal fuel flow at the burner or nozzle.
Running iterative tests and filming dynamic fuel / air flows in 3D models constructed out of transparent material enables RJM's engineers to develop and validate flow solutions off-line, prior to the design, manufacture and installation of any modifications that may be required.
Close X
Fuel Engineering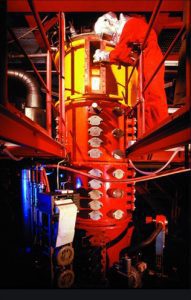 As generators increasingly seek to introduce more cost-effective, lower carbon and lower CV fuels and consider coal switching, they require expert advice to help determine what the operational, combustion and emissions impact of any variation in fuel will be.
Similarly, biomass and EfW plants also need support to identify the right fuel when widening their fuel diet to maintain effective, reliable and flexible generation.
RJM's team of combustion engineers are world-class experts in fuel engineering and have played lead roles in many pioneering coal-to-biomass projects, such as Drax, Lynemouth, Tilbury and Uskmouth as well as working on numerous other biomass and EfW sites, helping these plants improve operational performance.
Close X
Combustion System Engineering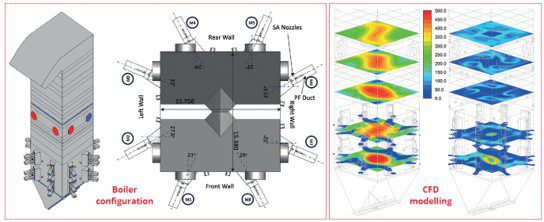 RJM specialises in resolving complex and challenging combustion challenges. The review, evaluation and engineering of both existing and new combustion systems is at the heart of RJM's core competencies.
Our engineers have a vast amount of experience across a wide variety of boiler types, sizes, OEMs and fuels, including many variations of combustion system design. Our knowledge of combustion and fuels is unparalleled.
For any project, RJM will design and custom-engineer combustion system solutions for retrofitting on existing plants, within the process and mechanical limitations of that plant.
Close X
Material Handling & Fuel Delivery Engineering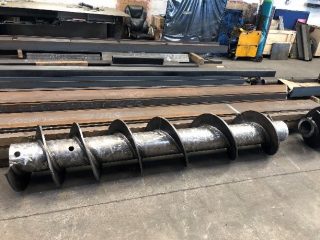 With expertise across all aspects of material handling, the RJM team can identify problem areas and deliver a solution with appropriate guarantees.
Typically, before new hardware is designed, a programme of modelling (DEM, CFD or physical modelling, or a combination of them) will be undertaken as a first stage, to test and verify the RJM solution.
RJM has its own drawing office and work with a range of Quality Assured fabricators to manufacture the new and or modified components that will be required.
Close X
Boiler Performance Study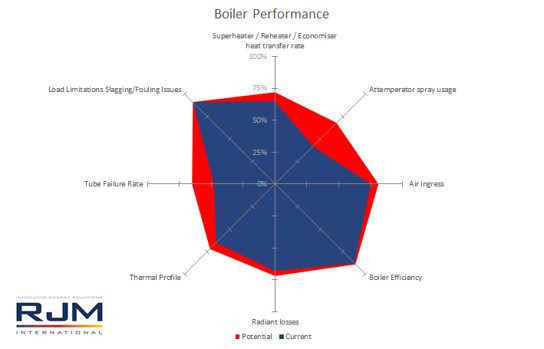 Poor combustion performance and flame dynamics can often lead to boiler performance issues, due to changes in the heat profile through the boiler and the rate of radiative and convective heat transfer.
Firing system upgrades or modification, to meet objectives such as emissions reduction or fire new fuel types, can also lead to problems with boiler performance.
At RJM we understand that combustion performance is closely linked to boiler performance and we therefore offer a Boiler Performance Study with any studies or projects where boiler performance is a concern.
RJM's Boiler Performance Study evaluates the heat transfer characteristics, boiler temperature profile, tube design and materials, boiler efficiency, boiler pressure losses, ancillary equipment such as the fans and airheaters, among many other parameters.
This study can then be used to predict changes or risks to boiler performance and provides RJM with the necessary data to make recommendations.
Close X
Boiler Air Ingress Study & Thermal Survey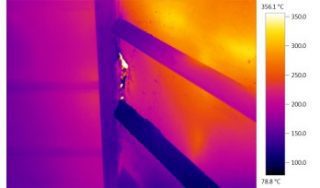 As boilers in continuous operation deteriorate over time and maintenance costs increase, it is common for many boiler systems to develop increased air ingress (air leaking into parts of the system under suction), including the boiler, backpass, airheater and flue gas ducts.
Air ingress leads to higher volumes of flow at the ID fans and this can lead to them reaching their operational limits and potentially becoming the limiting factor on boiler load and causing a unit de-rate.
RJM offers a Boiler Air Ingress Study & Thermal Survey to tackle this very problem.
The service includes a boiler performance test to enable mass balance and O2 balance mathematical models to be created, allowing RJM to calculate the volume of air leaking into the system.
The Thermal Survey involves surveying the entire system with a thermal camera to identify hot-spots which are also potential sources of air ingress.
This information is then used to make targeted maintenance recommendations to reseal the boiler system and mitigate leakage.
Close X
Combustion Optimisation+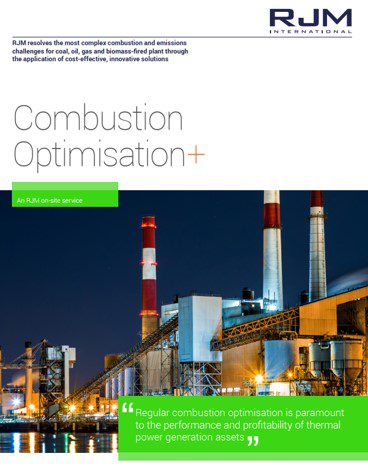 A regular programme of combustion optimisation will help ensure the optimal performance and profitability of thermal power generation assets.
RJM's engineers will evaluate all the key aspects of plant performance, starting with fuel handling and fuel blending, followed by all aspects of combustion and post-combustion measures.
Following the initial plant performance review, our team of experienced combustion engineers will optimise the operational parameters using tools such as air and fuel balancing, mill optimisation and burner and OFA settings, to identify the operating conditions required to maximise the performance within the limits of the existing system design.
With a commercial return-on-investment of months or even weeks, it is a highly cost-effective procedure.
Click here for Combustion Optimsation+ brochure
Close X
Benchmarking+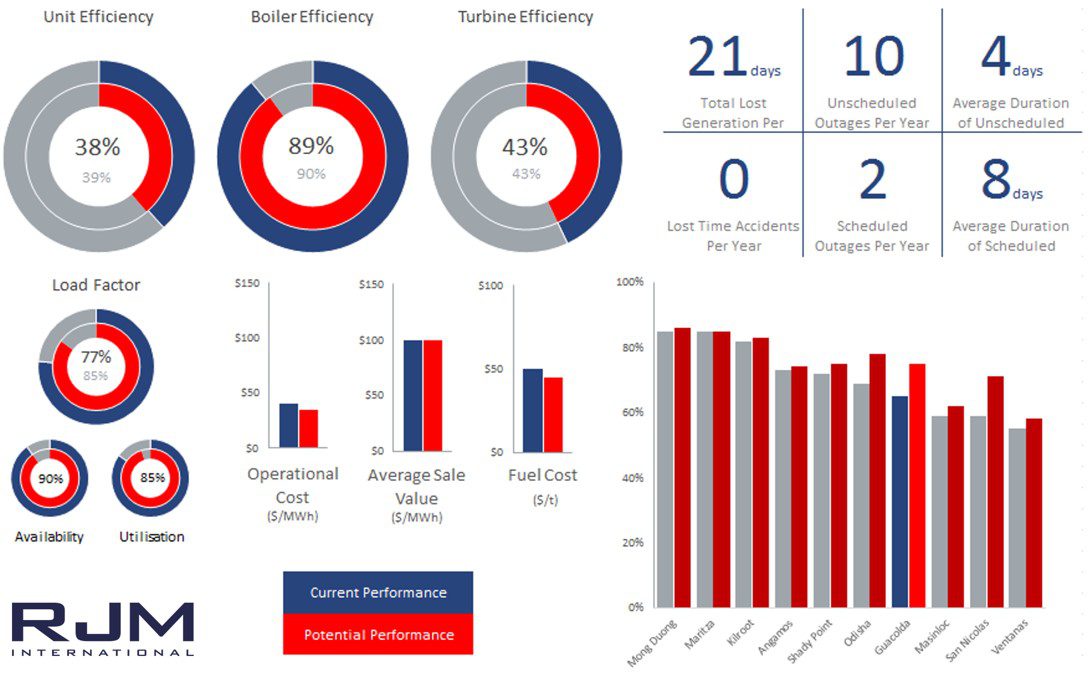 RJM has successfully completed over 60,000MWe of combustion improvement and emissions reduction projects across a wide range of fuels and firing configurations from all the leading boilermakers.
This experience means RJM is well-placed to conduct a thorough benchmarking study that will compare results with other similar plants to identify areas where performance is compromised and set out an action plan to return the plant to reach best-in-class status.
Close X
Investment Assessment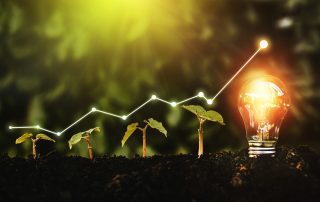 RJM can support financial decision-makers by providing specialist, technical expertise across a range of investment areas and help them determine a clear way forward that meets their investment criteria.
On utility scale plants RJM can assess which investment option, for example in primary or secondary measures – or a combination of the two – is most appropriate.
For biomass and EfW sites, RJM can evaluate a site for potential purchasers as well as identify, for owners and operators, the most appropriate options for further investment to improve performance.
Close X
Fuel Assessment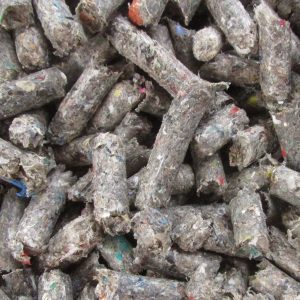 Successful simulation of coal combustion relies on the accuracy of the combustion model and requires advanced coal characterisation data.
RJM's coal characterisation testing, carried out by its own industry-leading experts includes:
High temperature volatile release (HTVM)
Devolatilisation kinetic rates
Char combustion kinetic rates
Petrographic & char morphology analysis
Volatile/char fuel-bound nitrogen split
Detailed coal particle size and shape analysis
Ash, slagging and fouling characterisation
Close X
Remote Monitoring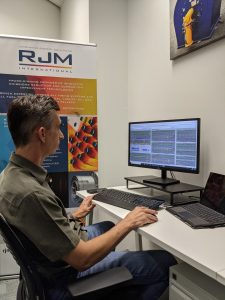 RJM has the capability to remote monitor any plant that has a suitable interface with its DCS (Digital Control System).
Remote analysis of the data enables RJM to produce frequent unit performance reports, as well as recommendations for improving performance or mitigating operational risks.
Through its ongoing remote monitoring work for AES-VCM Mong Duong II in Vietnam, RJM's combustion engineers based in the UK have been able to predict problem areas before they develop and alert the plant operators to take remedial action.
Remote monitoring has also enabled a whole series of incremental performance improvement measures to be adopted without the need for lengthy outages.
"The team at RJM brought great experience, data analytics and modelling to help us solve our challenging combustion issues at our 1,200MW station in Vietnam. It was a pleasure working with a team which was as determined and dedicated as we were to find the solutions." 
Kevin Pierce, Plant Manager, AES-VCM Mong Duong II, Vietnam
Close X
Technical Services Agreements
A Technical Service Agreement (TSA) establishes an agreed relationship and gives the customer operational certainty in the medium to longer term.
It also means RJM can develop an agreed plan of works that will deliver a series of incremental and measurable improvements that translate into a cost-effective way to increase performance at the plant.
It also gives operators the ability to call upon RJM's expertise at a moment's notice, without the need for additional procurement and contractual processes, meaning RJM can react to plant issues more rapidly.
Close X
RJM
 adheres to all national and international safety legislation and leads on improving safety standards throughout the industry. Its Head of Process Engineering is a sector expert who co-authored the UK's Best Practice Guide to power station safety.  
ATEX Assessment
The EU ATEX Directive requires operators to identify the potential for an unintended explosive atmosphere to exist on their plant. Operators must also assess the risks to personnel and reduce these risks, either by eliminating the formation of the explosive atmosphere or by ignition source control.
The latter is enforced by Hazardous Area Classification and this falls into RJM's area of expertise in relation to fuels, which, by definition, are flammable. For example, the release of fuel gas, the formation of sprays or vapours from liquid fuels and the release of dust from solid fuels can all create potentially explosive atmospheres. The use of biomass in particular, with more aggressive explosive and ignition properties, has resulted in numerous fires and explosions on a number of power plants worldwide.
RJM's engineers bring a combination of specialist fuel knowledge coupled with plant design and operations expertise to provide knowledgeable and pragmatic assessment of explosion risk. Consequently, they can carry out hazardous area assessments in accordance with the ATEX Directive, national or EU standards and relevant industry specific guidance.
RJM's Principal Safety Engineer was at the forefront of ATEX compliance development for the power generation sector in the UK and is a joint author of the UK Power Industry's Best Practice Guide – a document endorsed by the Health & Safety Executive  (HSE)  RJM's solutions focus on appropriate implementation and robustness and offer reassurance to customers that their plants are operating as safely as possible.
Close X
Furnace & Combustion Safety
RJM conducted a detailed review of the Furnace Protection System at a down-fired coal power station, AES Mong Duong II, Vietnam. One of the works included in this project incorporates the review of the current Loss of Flame Protection system against the NFPA 85 Code.
Site testing results have shown that the flame detectors failed to perform according to its intended safety functions, due to the equipment positioning, which required the detection of individual burner flames as seen in most front-wall fired power stations. RJM has successfully completed the development of a new Master Firing Trip Functional Design that will replace the existing system and allow the plant to operate significantly safer.
Furthermore, RJM is experienced in the Management of Change processes and is currently on-track to implement the identified safety enhancements to the plant. Historical combustion upgrades in this plant have yielded significant improvements on furnace stability in AES Mong Duong II, resulting in reduced frequency of boiler trips, leading to reduced start-up and shut-downs which contributes to increased plant availability.
Close X
HAZID / HAZOP
The implementation of HAZID or HAZOP, or a combination of both, is an essential tool to ensure safe design and operation of any plant. It is specifically focused on plant modifications where the failure to fully consider the safety implications on subsequent plant operation can have catastrophic impacts.
With RJM's detailed combustion system design knowledge alongside high-level familiarity with combustion system safety codes worldwide, it is well placed to lead both HAZID and HAZOP studies.  The Chairman is a key role in any HAZID or HAZOP and RJM will always use an experienced HAZOP Chairman with power station process knowledge who is independent from the project design process.
In this way, the easy acceptance of assumptions is eliminated and a robust approach is ensured.  A HAZOP is only complete when all actions are completed: RJM's HAZOP Report includes individual, unique action sheets that can be monitored until full completion.
Close X
Incident Investigation
Sometimes, despite best efforts, things go wrong. It is important at such times to carry out a full investigation into any event to determine the root cause and to implement controls to prevent a repeat.
RJM's experience in such investigations includes painstaking review of recorded plant data and alarm logs, the collection and analysis of samples and, where required, interviews with operations and engineering staff.
The objective here is not to allocate blame, but to develop mitigating actions that will prevent a recurrence. In many cases the results of RJM's investigations are presented to the regulating authority as part of the operator's incident investigation.
Close X
Fuel Safety
The safe storage, handling and combustion of fuel is essential on all power plants.  In the UK, this is governed by a Pulverised Fuel Code of Practice, a document individually produced for each power station, based on the fuel used and the equipment and safety features deployed on the plant itself.
RJM's engineers are experienced in the risk assessment of fuel usage, be it gas, liquid or solid fuels, and, most importantly, with how this assessment changes if the fuel changes – this can be a coal to biomass conversion, or even the use of a different coal type.
RJM can produce a specific PF Code of Practice for a plant or modify an existing one, in accordance with a fuel or operational change.  All assessments are supported by detailed calculations to produce a workable operational procedure for implementation on site.
Close X
Safety System Review
All combustion systems are fitted with a safety control system, to detect abnormal operations and, where this impacts on safe operations, to take executive action; in the extreme this involves automatically tripping the plant.
The functional design requirements of such systems are outlined in  national and international safety codes, all of which are familiar to RJM's engineers.  The application of these design requirements to an individual plant design is more complex and requires detailed plant design and operations knowledge coupled with the ability to identify potential hazardous situations which may not be covered by a necessarily generic safety code.
RJM can deploy tools such as HAZOP to evaluate these situations and can also draw upon its in-depth fuels knowledge to provide a full assessment.
Programmable safety systems designed in accordance with IEC 61508 require a Safety Integrity Level (SIL) assessment to be carried out. RJM utilises the Layers of Protection Analysis (LOPA) approach for this. Again, an accurate assessment of initiating actions that create a hazardous event, the probability of this occurring and the assessment of individual exposure demand  a strong background in power plant design and operation, one of RJM's key strengths.
Close X