Wednesday 24th April 2019: RJM International to exhibit at World Waste to Energy & Resources Summit in London on 21st and 22nd May 2019

RJM International, the award-winning provider of innovative emissions reduction technology and equipment to the power generation and large combustion plant sectors worldwide, announces today that it will be taking a stand at the World Waste to Energy and Resources Summit in London at the Tower Hotel, St Katharine's Way, London on 21st / 22nd May 2019.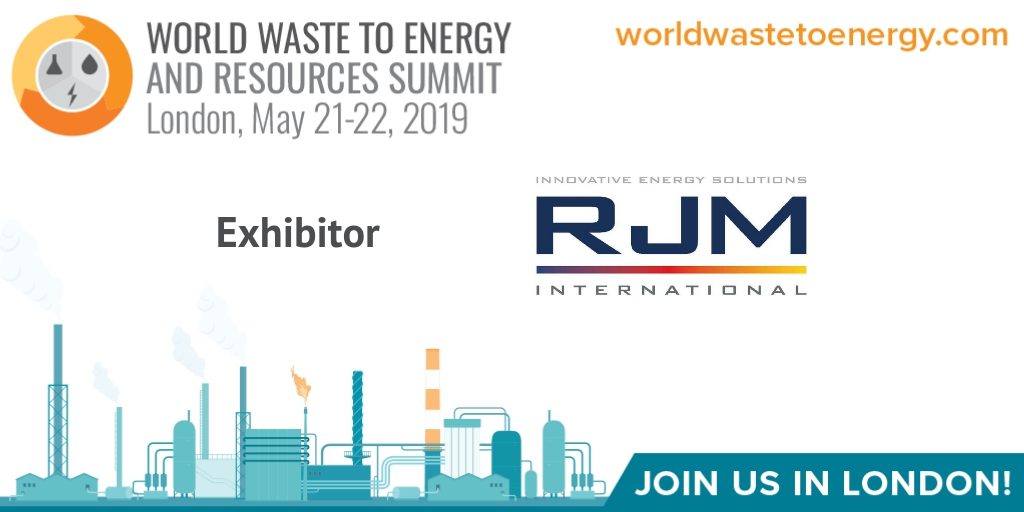 This international event, now in its eighth year, has gained global recognition as the summit where deals are made and new partnerships are formed between leaders of international waste management CEOs, developers, bankers, private equity financiers, and technology pioneers.
RJM is increasingly working in the biomass and waste-to-energy segment of the power market, as well as helping thermal generators develop strategies to lower carbon emissions through widening their fuel diet and seeking to introduce co-firing with biomass.
In November 2018, RJM was appointed by global infrastructure consultants, WSP, to undertake the Front-End Engineering and Design (FEED) work for a revolutionary new fuel conversion project at a coal-fired power plant at Uskmouth in Wales. The purpose of this project is to enable the operator, SIMEC Atlantis Energy Limited (SAE), to convert the Uskmouth plant to run on waste-derived energy pellets, comprising a mixture of biogenic material and waste materials that are unsuitable for recycling.
This is a world-first project and it is SAE's ambition that not only will this plant help the UK tackle the big issues of non-recyclable plastic waste management and baseload energy generation, but that it will also form the basis for the conversion of similar plants worldwide.
In January 2019, RJM announced additional new business wins across waste-to-energy, alternative coal-to-biomass conversions and biomass-fired plant, confirming its green fuels credentials in this growing sector. These new projects are requiring RJM to apply its world-class expertise in resolving complex emissions and combustion challenges that can arise when firing biomass or when plants introduce new fuels to their fuel diet.
Commenting on the opportunity to take a lead part in the World  Waste to Energy and Resources Summit, John Goldring, Managing Director of RJM International said, "This event brings together all the key players in the low carbon energy sector, from plant operators and plant owners to investors.
"The RJM offer, as technical specialists in all aspects of emissions reduction and combustion optimisation across these new low carbon fuels and new firing systems, makes us ideally placed to offer reliable operation with fully-optimised output at least cost.
"We are therefore the ideal "expert partner" to ensure operators and owners can maximise revenues in the long-term," he confirmed.
For further information, please contact:
Christopher Biggs, Head of Global Marketing, RJM International
T + 44 (0)7796 171091  E  [email protected]