RJM International, the Winchester–based provider of emissions reduction solutions and equipment to the power generation and large combustion plant sectors, announces today that following on from its first major project in China in 2016 which saw the retro-fitting of nine new RJM ultra-low NOx CleanAir Burners™ on a gas-fired district heating plant in Beijing, RJM has now secured three additional projects in China in 2017.
The first of these consists of six new 70MWth CleanAir Burners™ to be installed on six new Taishan boilers, split across two new Huayuan district heating scheme plants being constructed in Beijing.
The second project, similar to the 2016 retro-fit, consists of 12 new 40MWth RJM CleanAir Burners™ being retro-fitted to four existing industrial boilers on another Huayuan Beijing area district heating scheme.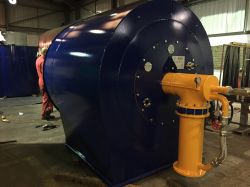 One of the newly-fabricated 70MWth RJM CleanAir BurnersTM

The third project, will see the installation of two RJM CleanAir Burners™ onto the two existing industrial boilers providing heat and hot water to the complex of terminal buildings at Beijing Airport.
All of these new RJM ultra-low NOx CleanAir Burners™, 20 in total, will be delivering ground-breaking NOx levels below the 30mg/Nm³ threshold, stipulated by China's new Clean Air Act that is one of the main strategies for tackling air pollution in Beijing.
Having been manufactured in the UK over recent months, these RJM burners are now being transported to China overland, via the "new silk road" rail-freight route that links Europe with Asia.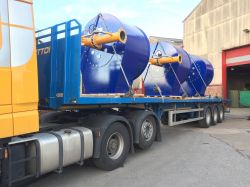 Three of the 70MWth RJM CleanAir Burners™ on their way to the "new silk road" rail-freight link to China
Following installation and commissioning by local partners, RJM personnel will oversee the optimisation process, so that these units will be producing heat in time for the 2017 / 2018 winter heating season.
Commenting on these projects, John Goldring, Managing Director of RJM International, said,
"RJM's innovative, ultra-low NOx technology is highly versatile and already well-proven across a number of diverse utility plant references. This explains how we already know that we will be able to guarantee NOx levels at an exceptionally low concentration of less than 30mg/Nm³ NOx for these facilities, thus enabling them to meet the requirements of China's new Clean Air Act.
"Clearly, the market potential in China for both new-build and retro-fit ultra-low NOx projects is considerable and we look forward to developing further our relationship with our local partner HKL Global and boilermaker Taishan in future," he confirmed.
Harry Lam, President, HKL Global Inc., added,
RJM is becoming a most valuable partner for us as we seek new projects across China; we look forward to the successful conclusion of these new projects and working together in 2018 and beyond.