RJM, as part of a consortium, is to modernise the 680MWe lignite-fired power station, Kosovo B.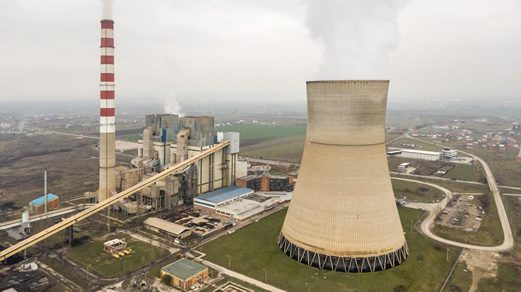 The €76 million EU contract, funded by the EU's Instrument for Pre-Accession Assistance (IPA), will reduce air pollution and meet the EU emission standards by 2021.
The lignite-fired power station "Kosovo B" near Pristina will be modernised, in cooperation with the Government of Kosovo and under the direction of Engineering Dobersek GmbH, supported by its consortium partners Hamon Thermal Europe S.A., France and RJM Corporation (EC) Ltd., England, trading as RJM International.
This consortium has joined together to deliver the required technical and commercial solutions as set out in the EU tender. The purpose of the contract is to significantly reduce nitrogen oxide emissions (NOx from around 700-800 mg/Nm3 to less than 200 mg/Nm³ at 6% O2, with SNCR), and dust emissions (from 300-700 mg/Nm³ to 20 mg/Nm³), whilst improving plant efficiency to recover full load of 339 MWe per boiler, up from around 292 MWe.
References in South East Europe – including projects financed by the World Bank and the EU enable Engineering Dobersek to contribute with its experience to this project in Kosovo.
The consortium leader, Engineering Dobersek (www.dobersek.com) will coordinate the project and will be responsible for full management of the site, the pneumatic ash handling system including necessary air supply.
Consortium partner Hamon Thermal will design and supply the Electrostatic Precipitator filtration system (ESP). The ESP of Hamon are considered as effective dust collectors with the collection efficiencies of up to 99% with guaranteed outlet emissions as low as 20 mg/Nm³ with minimal pressure loss.
Consortium partner RJM International is responsible for designing and engineering the NOx reduction system, using its combustion modelling capabilities to achieve the 75% reduction in NOx emissions mandated by the EU. RJM's equipment, such as new burner components, will be supplied to the site by RJM International and installed by Engineering Dobersek.
The reconstruction of the power station will be carried out in two phases. The works commenced on 2nd December 2019. The commissioning of Unit B1 is planned for the end of 2020 and Unit B2 by the end of 2021. The modernisation works are an important contribution to improving air quality, enhancing environmental protection and the strengthening of the infrastructure of Kosovo.
With this contract, Engineering Dobersek once more confirms its competence in the field of power station technologies in South East Europe (www.dobersek.com).
RJM International is an experienced provider of emissions reduction and combustion efficiency improvements for power stations and large combustion plant with over 60,000 MW of global references. More at www.rjm-international.com.
The Hamon Group (www.hamon.com) is an experienced company in engineering & contracting (design, installation and project management). Its activities include the design, the manufacturing of critical components, the installation and the after-sale services of cooling systems, air pollution control systems, heat recovery steam generators and chimneys, used in power generation, oil & gas and other heavy industries like metallurgy, glass and chemicals. Hamon is listed on Euronext Brussels.
-ENDS-
For more information, please contact:
Engineering Dobersek GmbH:
Mr. Ingo Bernartz  Marketing Manager
Phone:    +49 (0)2161-90108-795
E-Mail:    [email protected]
Hamon Thermal Europe S.A.:
Mr. Rony El Zeghendi Project Manager
Phone:    +49 (0)2203-20292-22
Mobile:    +49 (0)151 5871 6326
Email:     [email protected]
RJM Corporation (EC) Ltd.:
Mr. Christopher Biggs Head of Global Marketing
Phone:    +44 (0)1962 831250
Mobile.    +44 (0) 7796 171091
E-Mail:    [email protected]