RJM International, the Winchester–based provider of emissions reduction solutions and equipment to the power generation and large combustion plant sectors, announces today, Wednesday 14th October 2015, that it has won the contract to carry out a full burner replacement project on Unit 7 at Rugeley power station.
RJM is installing 28 of its ground-breaking Ultra-Low NOx Burners on the 500MWe unit and, in addition, is carrying out modifications to the BOFA system to further improve combustion.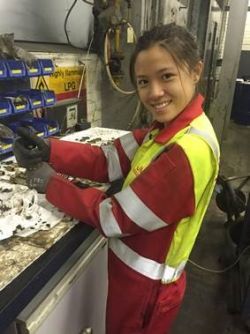 RJM trainee assembling oil burner tips for the Rugeley Ultra-Low NOx Burner upgrade project
As Rugeley has opted in to the Transitional National Plan, the objective is that once the RJM Ultra-Low NOx Burners are installed, the plant will be able to generate for a greater number of hours than would have been possible otherwise.
This will give plant managers time to consider the extent of any secondary NOx reduction measures that may be required to ensure compliance with the stricter NOx Emission Limit Values (ELVs) of the IED, which will apply from 2020.
All of the new RJM components have been delivered to site and are currently being installed.
Commenting on the project, John Goldring, Managing Director of RJM International, said, "RJM is the UK market leader for primary measure NOx reduction solutions and we are delighted to have been awarded this project that will use our technology and hardware to meet the latest emissions limits, on primary measures only.
"This project at Rugeley means that RJM has now completed upgrade assignments at more than half of the UK's coal-fired fleet and confirms that we are a valuable partner to help plants maintain generation capability when faced with ever more stringent emissions limits," he added.
"The lower our NOx, the greater number of hours we can generate, so we are looking forward to RJM's new Ultra-Low NOx Burners coming on-line in Q4 of this year," said Plant Manager, Neil Cranswick.