RJM International, the Winchester–based provider of emissions reduction solutions and equipment to the power generation and large combustion plant sectors, announces today that it has been awarded an EU competitive tender to carry out a burner upgrade project to ensure full IED (Industrial Emissions Directive) compliance on Boiler K4 at a power plant in Kralupy in the Czech Republic.
Located 31kms north-west of Prague, this on-site plant delivers power to a Synthos facility that manufactures rubber and polystyrene products.
The project was started in November 2016 and is scheduled to last for nine months, with commissioning and full operation planned for August / September 2017. The work will be carried out by local sub-contractors, working in partnership with RJM's specialist engineers.
Commenting on the project win, John Goldring, Managing Director of RJM International, said, "Our award-winning ultra-low NOx Gas CleanAir Burner™ is ideally suited to this type of retro-fit application, and the innovative technology that is at the heart of our burner means we can help our customers meet their IED limits on primary measures only, in a highly cost-effective manner.
"The versatility and effectiveness of our CleanAir Burner™ technology is well-proven across a number of diverse utility plant references. For example, we have recently completed an ultra-low NOx burner refit on a set of gas-fired boilers at a district heating plant in a suburb of Beijing where we have successfully reduced NOx to an exceptionally low concentration of less than 30mg/Nm³," he added.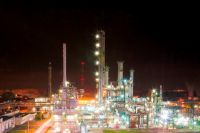 The Synthos facility at Kralupy, Czech Republic
-Ends-